How to Do Keyword Research for Niche Sites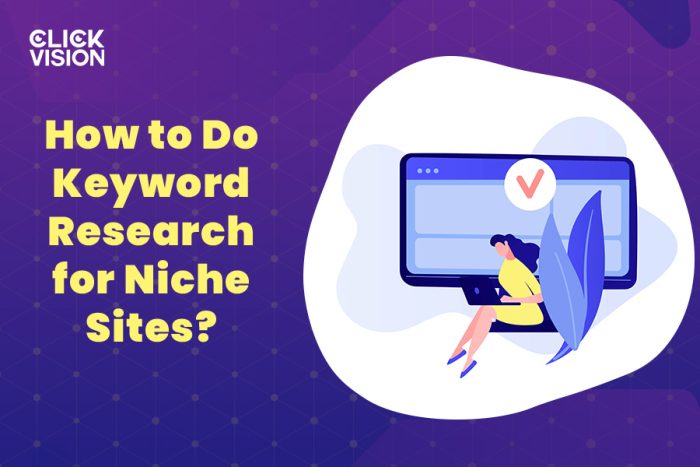 Keyword research is a method that involves finding and examining potential keyword opportunities. Niche websites often benefit from this process, so in this article, we will show you how to do keyword research for niche sites and all the steps involved.
By the end, you will understand how the keyword research process works and how to implement it successfully in practice.
Let's get into it.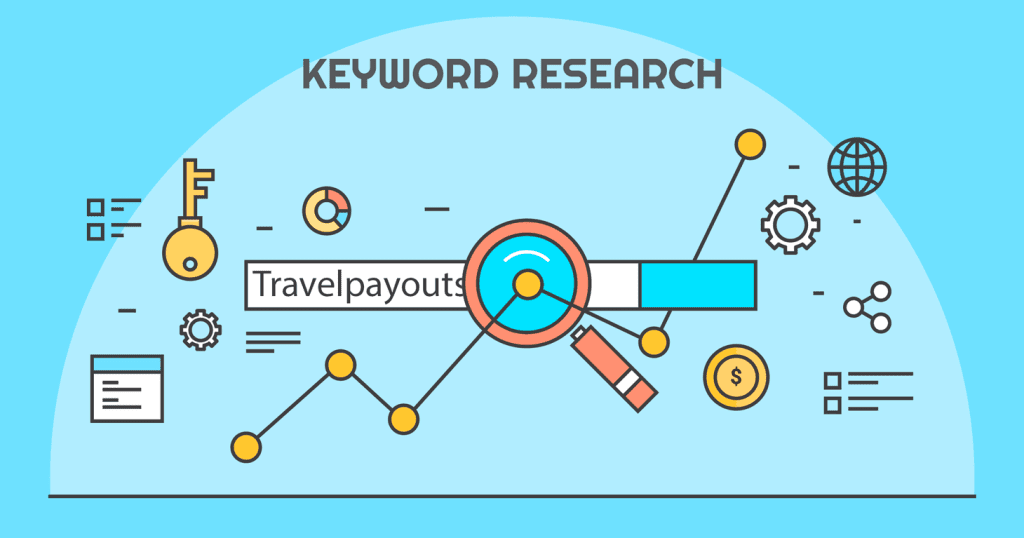 Source: travelpayouts.com
How to Do Keyword Research for Niche Sites
Keyword research is a complex process that involves multiple consecutive stages.
These stages often consist of:
Finding the right keywords
Checking their volume and difficulty
Identifying the search intent
Analyzing the SERPs
This process allows you to target the most valuable keywords and help you gain knowledge of your niche and audience. You will also create accurate, valuable content around the primary keyword.
In this article, we will go over each step of the niche keyword research process.
If you're unsure about how to do keyword research for niche sites and are interested in getting a DFY affiliate website, you can check out our SE0 services to simplify the process and maximize your chances of success.
Before starting keyword research, the first thing to do is identify a specific seed keyword.
A seed keyword is often a short, broad, and unique entity keyword that is difficult to rank for in the SERPs.
To demonstrate this, we will use the seed keyword "dog breeds" and analyze it with Semrush.
To start the keyword research, you first go into the Keyword Magic Tool and input the seed keyword:
Once you select "Search", the tool will analyze our seed keyword and provide keyword suggestions, which in this case are more than 93.000:

Now we can look for long-tail keywords to narrow our niche keyword search.
We will cover this step in the following section.
Step 2. Look for long-tail keywords
Now that you have keyword suggestions from our seed keyword, you can start researching and looking for the ones that best suit your goal.
Semrush allows you to find niche-relevant long-tail keywords quickly using the "topic groups" on the left side of the interface: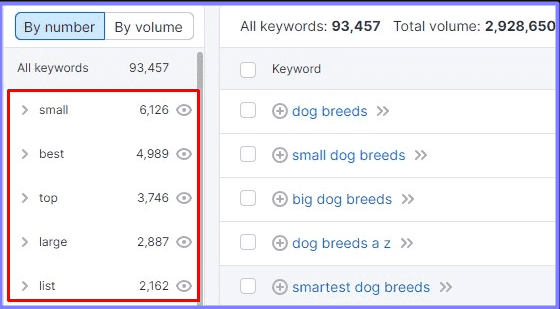 By using the topical groups' filter, you can isolate keywords that are relevant to your chosen topic.
For example, we isolated specific long-tail keywords about "small dog breeds that don't shed" using this method: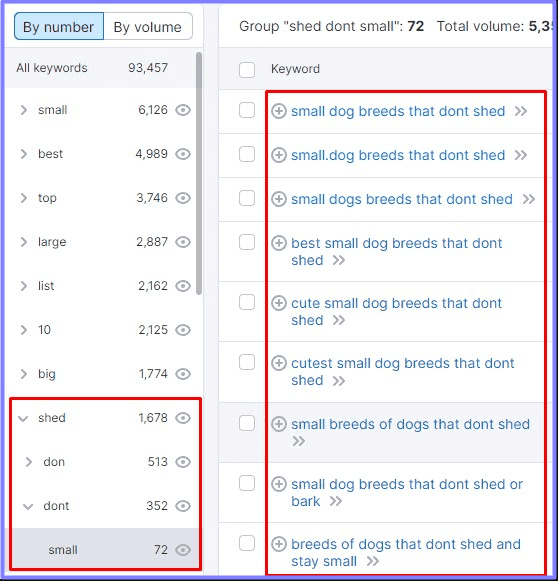 As you can see, finding relevant, long-tail keywords from a single seed keyword only takes several minutes.
In the next two steps, we will discuss analyzing your chosen keywords based on three metrics: volume, keyword difficulty, and search intent.
Step 3. Check the search volume and keyword difficulty
Now that you have a list of desirable long-tail keywords, it's time to start analyzing them based on three important metrics:
In this section, we will cover the first two, and in the next section, we will discuss the keyword intent in more depth.
The search volume and keyword difficulty are among the most important metrics to consider when analyzing keywords.
Here's what they look like in the Semrush Keyword Overview Tool: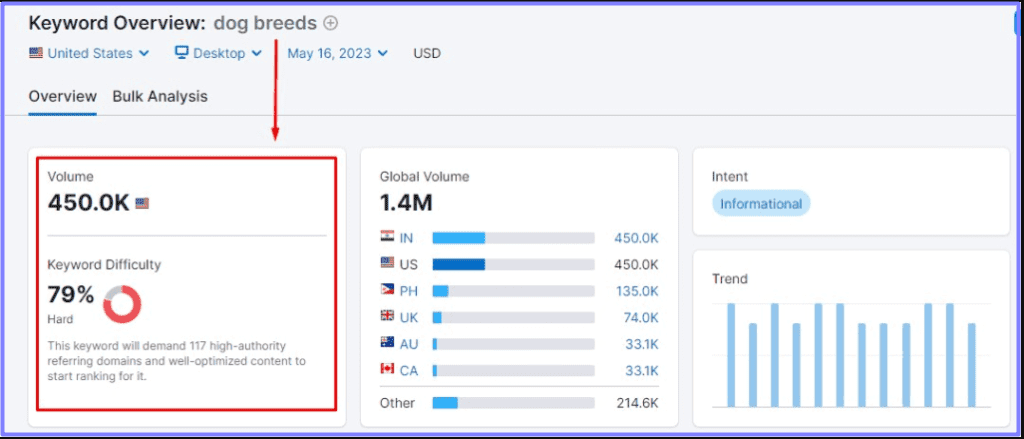 This same information is also available in the Keyword Magic Tool: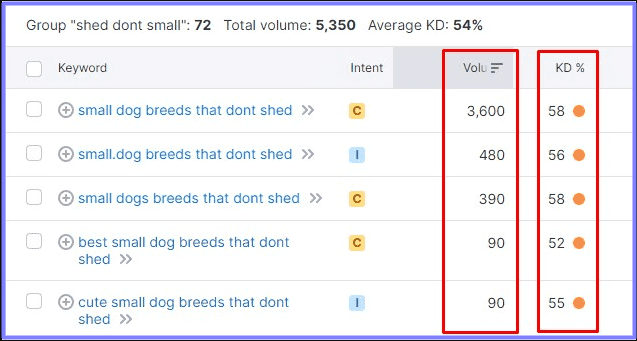 The search volume shows you how popular a certain keyword is and how many users search for it per month.
The higher the search volume, the more organic traffic the potential keyword can provide. This also means that keywords with a high search volume are harder to rank, as they are often too broad and highly competitive.
Keyword difficulty (KD) is another metric that can help you estimate how hard it is to rank for a specific keyword.
As you can see from the examples, the higher the number, the more difficult it is to rank in the SERPS for that keyword.
Short and broad keywords often have a high KD, while long-tail keywords with a lower search volume often have lower KD and are easier to rank: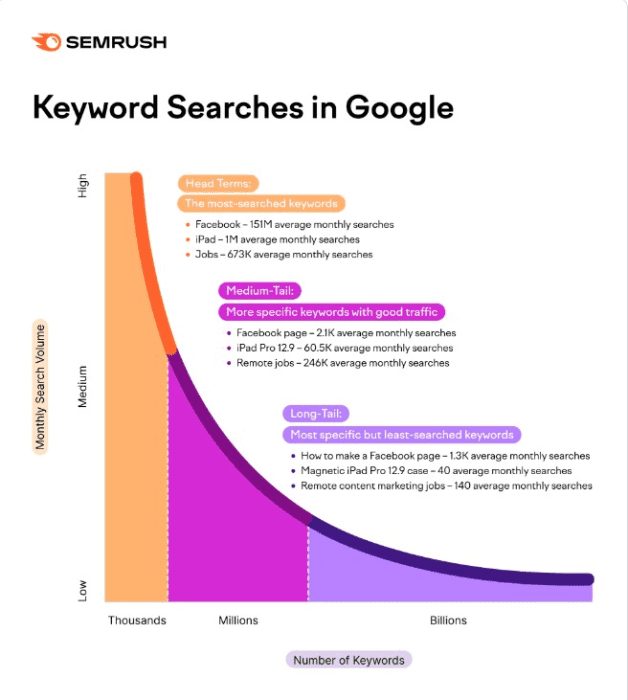 Source: semrush.com
Step 4. Identify the keyword intent
Knowing how to do keyword research for niche sites also involves identifying the search intent of the keyword you wish to target. It will determine the right content structure and content type that will be based on that keyword.
In other words, you will discover the type of content users expect to see when searching for a specific keyword.
There are four types of search intent that you need to know:
Navigational – the users want to find and navigate to a specific page
Informational – the users search for a specific information
Commercial – the users research multiple options before deciding to buy a certain product
Transactional – the users know what to buy and search for a specific brand or product they want to purchase
Discovering the search intent is easy, as each SEO tool today implements an intent metric.
Here's what this looks like in Semrush: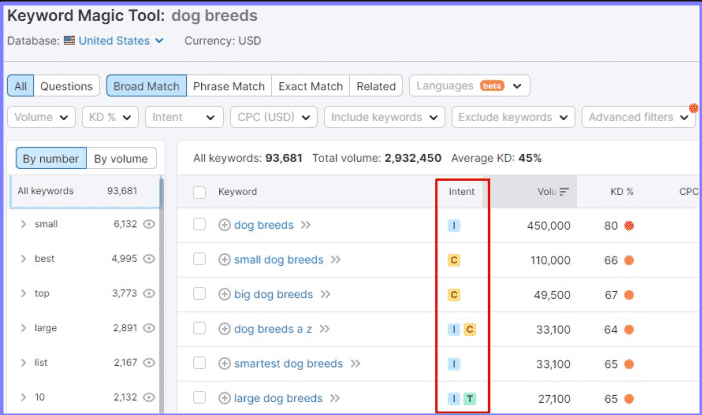 Using this metric, you can easily identify the search intent behind a given keyword.
However, it is also good practice to manually check the SERPs and see the types of pages and content that rank for the specific keyword. We will discuss this more in another section later.
You Might Be Interested: Do Niche Edits Links Work?
Finding the primary keyword you want to target is not the final step. You also need to find secondary and related keywords that complement the primary keyword.
This will allow your content to rank even higher in the SERPs because you will target more than one keyword per article.
There are different ways to find related keywords, depending on what keyword research tool you use.
The Semrush Keyword Magic Tool, for example, has a "Related" tab that shows all the related keywords based on a primary keyword: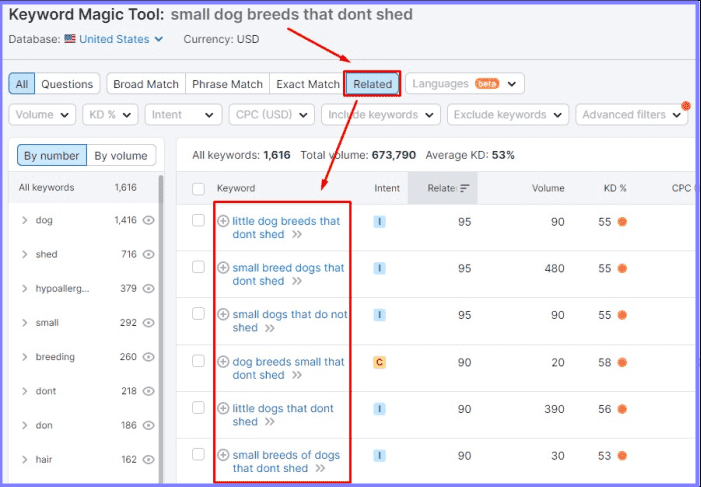 Keywords Everywhere, for example, offers a Chrome extension that shows you related keywords directly in the SERPs: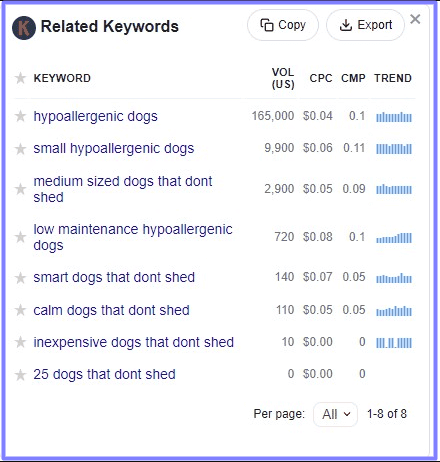 Using related keywords is mandatory in every content piece. You want to maximize your article's chances of ranking in the SERPs, so using anywhere between 5-10 related keywords is an excellent practice.
Step 6. Analyze the SERPs
The last thing you can do when researching keywords for a specific niche is to check the SERPs for your primary keyword manually.
This means inputting the keyword into Google Search and analyzing the top 10 results.
By doing this, you will look at what the content pages rank for and the search intent that Google gives to the specific keyword you're targeting.
Here's an example: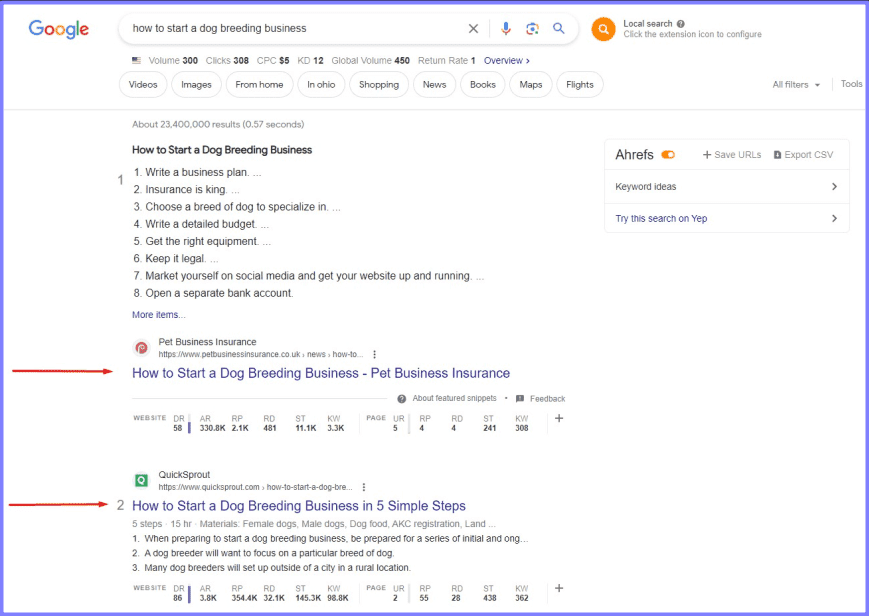 Analyzing the first-page articles will also give you insights into what information they lack. You can then cover the topic more deeply and provide original data that those articles do not have.
Read More: Guest Posts vs Niche Edits
Conclusion
Successful niche sites are built on proper keyword research. It is the foundation of a solid SEO and marketing strategy to help you reach the right audience better and faster.
So now that you know how to do keyword research for niche sites, you can easily use it to find the best low-competition, traffic-leading keywords to help you optimize your SEO campaign.
What is your opinion on researching keywords for niche sites? Do you have a different approach to finding relevant keywords?
Let us know in the comments below.