Guest Posts vs Niche Edits
Link building is one of the essential SEO strategies for high SERP rankings. There are many link-building strategies that you can use, but we've decided to compare guest posts vs niche edits, seeing as though they are among the most popular.
We will focus our attention on comparing these two strategies in terms of their effectiveness.
By the end of the article, you will learn what each link-building strategy is for and whether or not it suits your SEO and marketing goals.
Let's get started.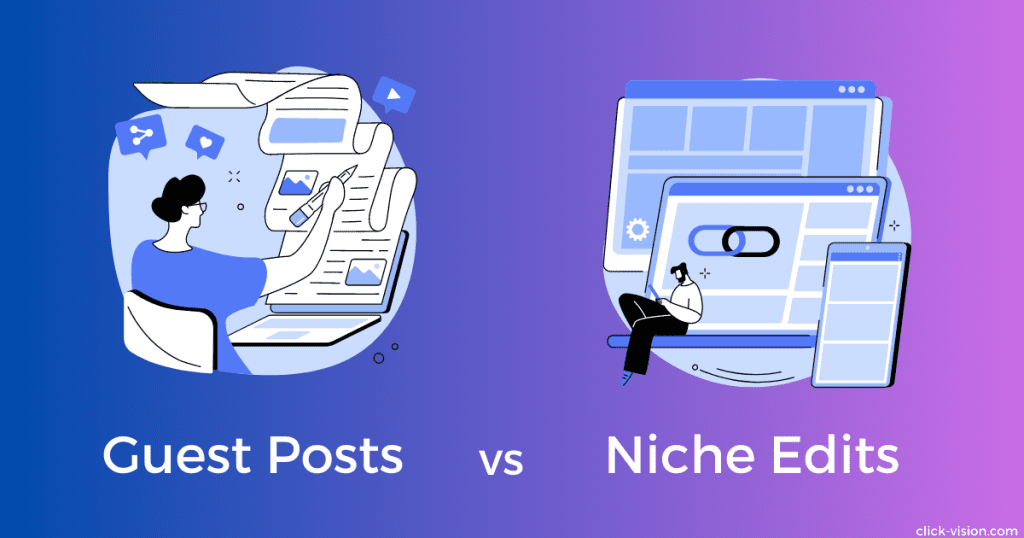 Guest Posts vs Niche Edits
Comparing guest posts and niche edits is a complex task. Even though both strategies provide the same result – backlinks, they each have different ways of reaching that result. Niche edits are quicker and cost-efficient to implement, but you have little control over content quality. Guest posts are the opposite.
To understand how these link-building strategies work, we will analyze their effectiveness and how they perform in practice.
That way, you will understand their benefits and drawbacks and be able to differentiate between the two.
Looking to boost your website's rankings but unsure about using niche edits and guest posts? Our SEO packages offer a safe and effective alternative to help you achieve your goals.
The Effectiveness of Guest Posts
What are guest posts?
Guest posting or guest blogging is publishing a new piece of content on another person or company website.
The fact that you must write and publish fresh content on another website is the primary way to differentiate a guest post link from a niche edit.
Writing and publishing a guest post on another website allows you to showcase your expertise to a broader audience. Guest posts will help increase your reputation and authority in your niche.
With a guest post, you will also increase the chances of building a valuable relationship with the publishing website's owner, as you offer to give them valuable and unique content in exchange for a backlink.
However, your content must be informative, unique, and relevant to the readers to maximize the benefits of using guest posting. That is how the readers will become motivated to visit your own site.
How effective are guest posts?
Now that we've covered what guest posts are, let's see if they're effective for search engine optimization and driving organic traffic.
Do guest posts boost SEO and organic traffic?
In short, guest posts can help boost SEO and organic traffic, but not in a way that you would expect.
Going back 10 years, you will see that guest posting was done purely for SEO benefits.
Nigerian blogger Bamidele Onibalusi is a pure example of this. He published almost 270 guest posts during his first eight months of blogging on websites like ReadWriteWeb, Business Insider, Problogger, etc.
What we can take from these claims is that Google is constantly evolving and trying to restrict spammy search engine behavior at all costs.
But every SEO strategy can become spammy when misused, so it's not all downhill for guest posting.
This strategy can slowly boost SEO and organic traffic, but "more naturally."
Let's see how in the next section.
What are the actual benefits of guest posts?
The way guest posting helps your website, and brand is through direct promotion.
What we mean by this is that guest posting will give you more exposure to a broader audience with your content.
People will learn about your brand, and get to know who you are and what you do, more effectively through guest posting. They will begin to trust your expertise, which leads to more organic traffic, subscribers, and leads.
As you can see, the primary benefit of guest posts is direct promotion. The organic traffic and SEO results are positive byproducts that come "naturally" to your site.
This is difficult to accomplish in practice, but creating quality guest posts and publishing them on websites with quality traffic as frequently as possible is essential.
On the other hand, if you want to gain SEO organic traffic quickly, there are far more efficient tactics.
One of them is niche edits, which we will cover next.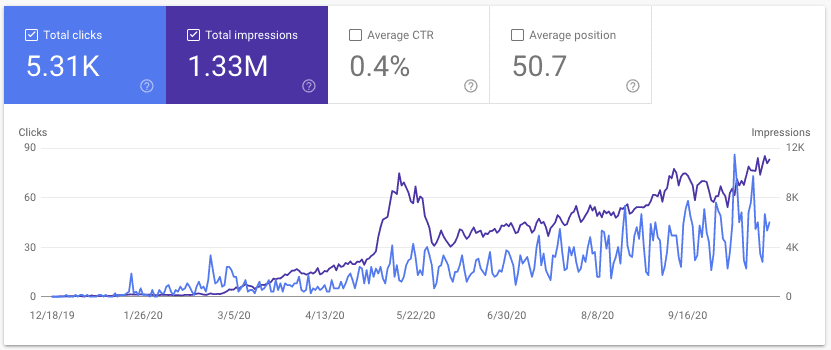 Source: tuffgrowth.com
The Effectiveness of Niche Edits
What are niche edits?
Niche edits are the backlinks inserted into an existing or aged piece of content on another person or company website.
These quality backlinks pointing back to your site's content and may or may not transfer link juice. More on this later.
As you can see, the apparent difference between guest posts vs niche edits is that the former requires you to create new content, while the latter is placed on an already established page or blog post.
The best thing about niche edits is that they are quick to implement and help you save time and resources.
But are niche edits worth it? Are they effective in driving organic SEO traffic to your site?
Let's find out.
How effective are niche edits?
Niche edits are one of the most popular SEO strategies today for driving traffic quickly to a website. But this depends on several factors:
the backlink type;
the authority of the referring domain;
the strategy employed to acquire the backlink.
In the following sections, we will go over each factor individually.
Effectiveness of niche edits in terms of backlink type
There are multiple link types in SEO, but for the purpose of this article, we will analyze niche edits that are either:
Dofollow backlinks
Nofollow backlinks
Dofollow backlinks
The difference between these two backlink types is that the first transfers link juice from authority websites to your website, while the second does not.
Link juice is the value of authority that a webpage on which the link is placed can transfer to the page to where the link is pointing to.
So in a way, dofollow links are more valuable if a niche edit is placed on a high-authority website. Your site then benefits by ranking faster and higher on Google and gaining more organic traffic.
Nofollow backlinks
But what about nofollow backlinks? Does this mean they are useless when compared to dofollow backlinks?
Not at all. Nofollow niche edit backlinks also drive traffic and boost SEO but in a slower and more natural way.
For example, a reader has to click on the link placed on another website and navigate to your site for you to gain traffic. This can happen at an accelerated pace if the backlink is placed on a high-authority website with thousands of monthly visits.
So, in this case, we can clearly state that dofollow backlinks are more effective than nofollow niche edits.
The authority of the domains where the niche edits are placed also plays a vital role in their effectiveness.
For example, placing a niche edit backlink on a high-authority website will almost certainly redirect traffic back to your site.
On the other hand, low-authority websites have no traffic to redirect, so placing a backlink on one is practically useless.
That is why it's necessary to perform thorough research and find domains with domain authority adequate and worthy of outreaching for a niche edit.
Effectiveness of niche edits in terms of the acquiring strategy
In terms of how niche edits can be acquired, there are three main strategies called:
White hat
Gray hat
Black hat
The white hat strategy signifies that niche edits can be acquired in accordance with Google's Web Spam Policy for links. This means outreaching for niche edits manually, which is a resource and time-consuming process.
The gray hat strategy comes close to violating Google's link spam policy, but it's still considered safe. It involves buying niche edit links to gain organic traffic boosts in a short period of time.
The black hat strategy goes against Google's link spam guidelines and includes hacking and adding niche edit backlinks to a website without the owner's consent.
The white hat strategy is the best and secures the most effective niche edits in the long run. However, it manifests results slower in practice, so people use the gray hat strategy to gain quick organic traffic, but at particular risk.
The black hat strategy can produce effective niche edits.
Nevertheless, there is a substantial risk of your website being penalized by Google. That is why this strategy should be avoided.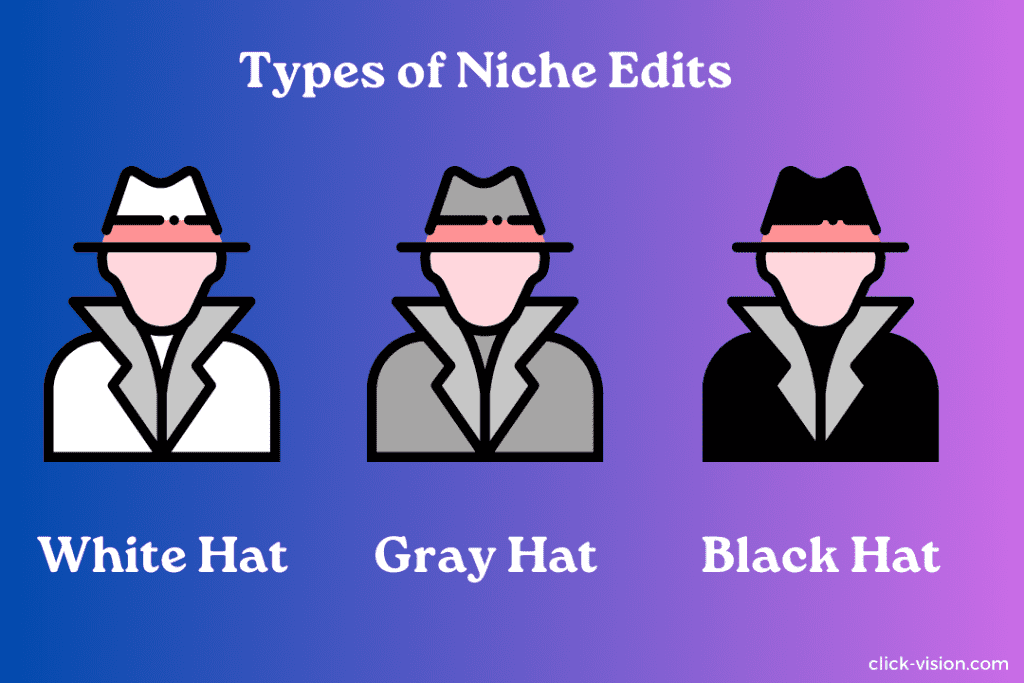 You Might Be Interested: How to Fix Keyword Cannibalization
Niche Edit Links vs Guest Posts- Which is Better?
Link building is among the most important ranking factors for driving organic traffic and higher SERP positions.
You can improve those rankings by using guest posts or niche edits. But which one is better?
It depends on your goals, resources, and digital marketing plan.
If you want to obtain quick organic traffic and climb quickly in the SERPs, then niche edits are the way to go.
On the other hand, if your goal is to promote your brand and build a slow and steady flow of traffic, then guest posts might be a better choice.
What do you think about guest posts vs niche edits? Is one better than the other, and why? Can they both be used simultaneously?
Let us know in the comments below, and make sure to check some of our other articles about niche edits and guest posts.