How to Write a Guest Post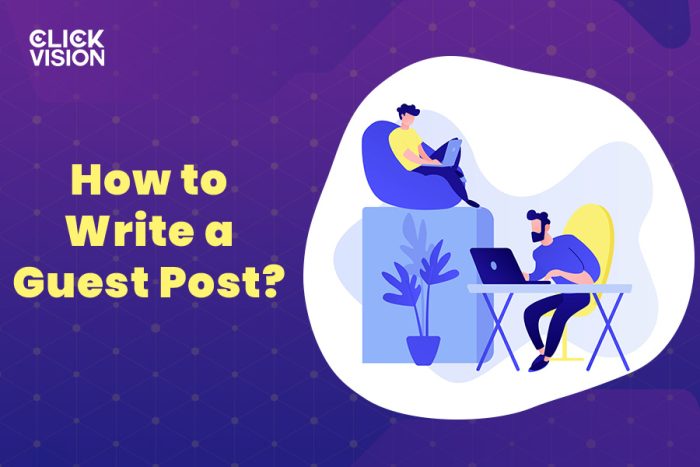 There is a reason why guest posting is still one of the strongest link-building strategies. They don't just help build links but also promote your brand and build long-lasting relationships. So how to write a guest post that can potentially drive all these benefits?
In this article, we will tackle the main problem that many writers face – lacking the right approach to writing high-quality guest posts.
By the end, you will learn all the steps to write a quality guest post that provides value and gets accepted.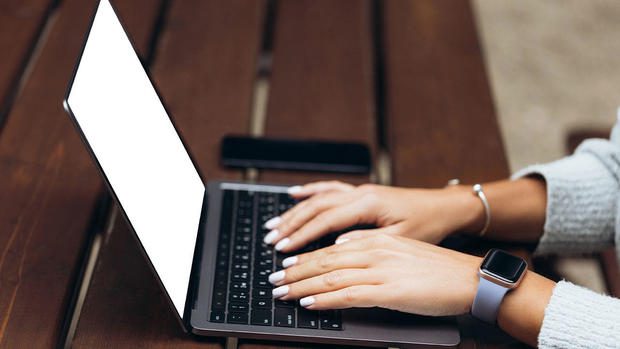 Source: cbsnews.com
How to Write a Guest Post
Writing a guest post is the same as writing a regular blog post. It includes several steps like:
Doing keyword research
Choosing a unique topic
Creating an outline based on the search intent
Writing and editing the post
When writing a guest post, these steps must also be used encompassed with:
Proper keyword placement
Title and heading optimization
Relevant images and other media
Internal and external links
To best explain the process of writing a guest post, we will break it down into two major sections.
The first section will cover the steps included in writing the post.
The second section will cover the SEO optimization practices for the post.
If you're unsure about how to write a guest post, we can offer our professional SEO services for creating engaging and high-quality guest posts tailored to your target audience.
Step-By-Step Guide on Writing a Unique Guest Post
Pick a unique topic based on keyword research
Before writing a guest post, the first thing to do is choose a niche-relevant topic based on keyword research.
Keyword research is the starting point of creating every piece of content online.
The key is finding relevant keywords/topics not yet covered on the site where you want to publish your guest post.
You can do keyword research using multiple tools, but the best are Semrush and Ahrefs.
Here's how to find relevant topics using Semrush:
Open the Keyword Magic Tool
Filter the resulting keyword by "Volume" and "KD"
Pick a keyword topic from the list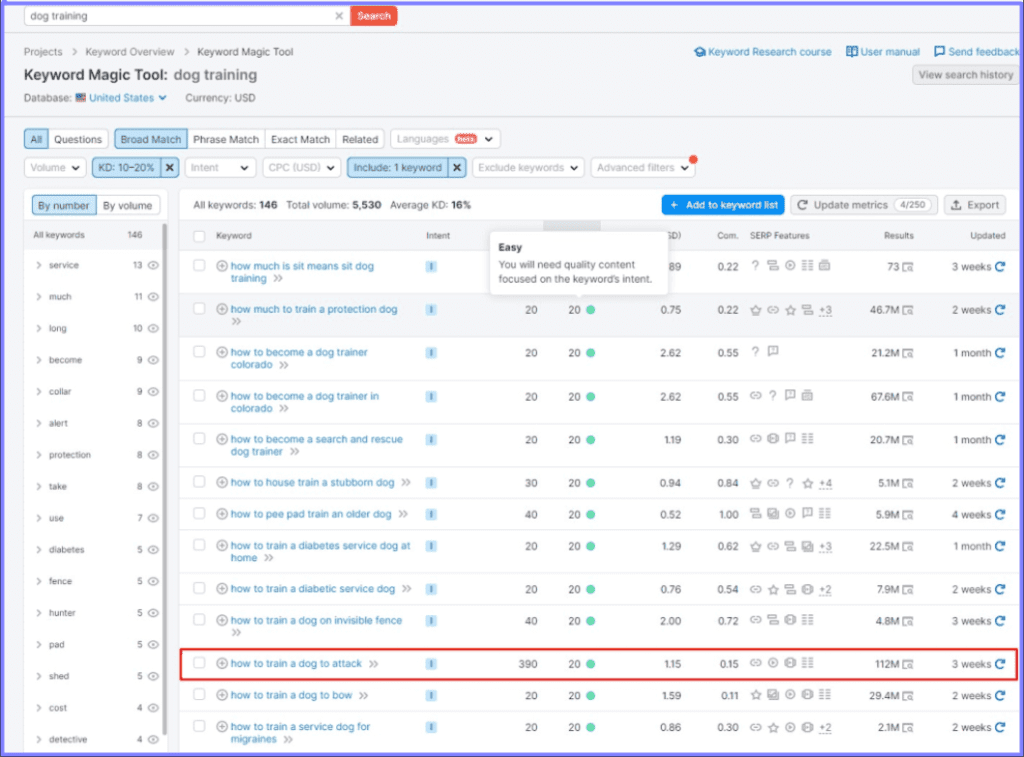 As you can see from the example, we've picked a keyword with a monthly search volume of 390 and a KD (keyword difficulty) of 20.
This keyword is easy to rank if you provide high-quality and unique content.
Before writing the article, you must ensure that the topic is not already covered on the website that offers the guest posting opportunity.
Create an outline based on the users' search intent
The best way to start writing a guest post is to determine the outline first. You can then start filling the gaps once you have a clear roadmap on how to proceed.
Every guest post outline is different, but there are several main types depending on the readers' search intent. There are four types of search intent:
Informational
Navigational
Commercial
Transactional
Each search intent type has a different purpose and requires a separate article structure.
For example, the informational search intent requires an article structure focusing on problem-solving information for the readers.
The commercial search intent, on the other hand, is often satisfied with a listicle outline.
While making the basic outline of the guest post, you must also think about the H2s, H3s, H4s, etc., and how you will structure them appropriately.
Here's this article's outline as an example: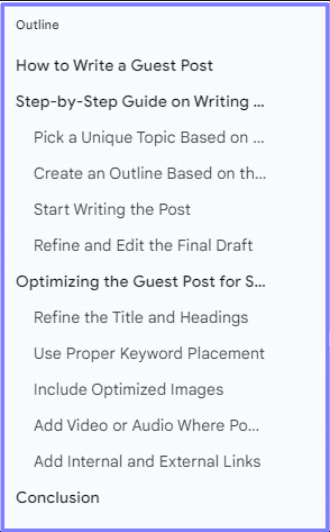 Start writing the draft
Once you have an outline, the next step is to fill those "gaps" in between.
Research is very important at this stage. You must ensure that every piece of content is well-written, makes sense, and is backed by research.
The writing pace is different for everyone, and it's also best to remove as many distractions as possible.
As you fill the article with content, you will start to make changes to the outline, which is completely normal. This comes easier if you're an expert, and you will create a "better flowing" guest post.
Adding external links to credible sources and images or video content is also beneficial while filling out the body of the guest post.
The links will help support your research claims, while the images and videos will help relax the reader and help them read your content to the end.
Don't focus too much on refining the content; that will come later during the editing phase.
Refine and edit the final post
Now that you know how to write a guest post, the real magic of any content creation process happens during the editing stage. This is when the final look of the guest post will start to take shape.
It is essential to focus on several things during the editing phase:
Content flow – read the text out loud to see if it's "flowing" well.
Grammar mistakes – you can use Grammarly.
Avoid big chunks of text – break them into paragraphs with a max of three lines.
Add more images, links, bullet points, bold text, etc. – this will make your text skimmable and easier to read.
Make sure to pay special attention to the introduction, as it must intrigue the readers and make them continue reading the guest post all the way to the end.
How to Optimize the Guest Post for SEO
Now that you've written and edited the guest post article let us give you some on-page SEO parameters you need to worry about if you want your post to rank in the SERPs.
Refine the title and headings
The first thing you need to do is revise and refine your title and headings.
The title, or the H1, is important for telling readers and search engines what the content in the post is all about. It will also reassure the readers that they've found the content information they were looking for.
The title length is also essential. It should be long enough to describe the meaning of the content and short enough to retain the readers' attention. A good title length is anywhere between 60-70 characters.
Using the primary keyword in the title is also a good practice to help search engines understand what the content is about from the start.
The same principles for optimizing the title also apply to the post's main headings.
Use proper keyword placement
Keywords are still one of the cornerstones for article rankings on search engines.
You must use proper keyword placement to maximize your guest post's chances of ranking in the SERPs.
This means that your primary keyword, together with related and LSI keywords, should be adequately and evenly spaced across the content.
A good practice is to use your primary keyword in the introduction and conclusion of the article, as well as several times in the body. You should also place it in your title and the first H2 heading.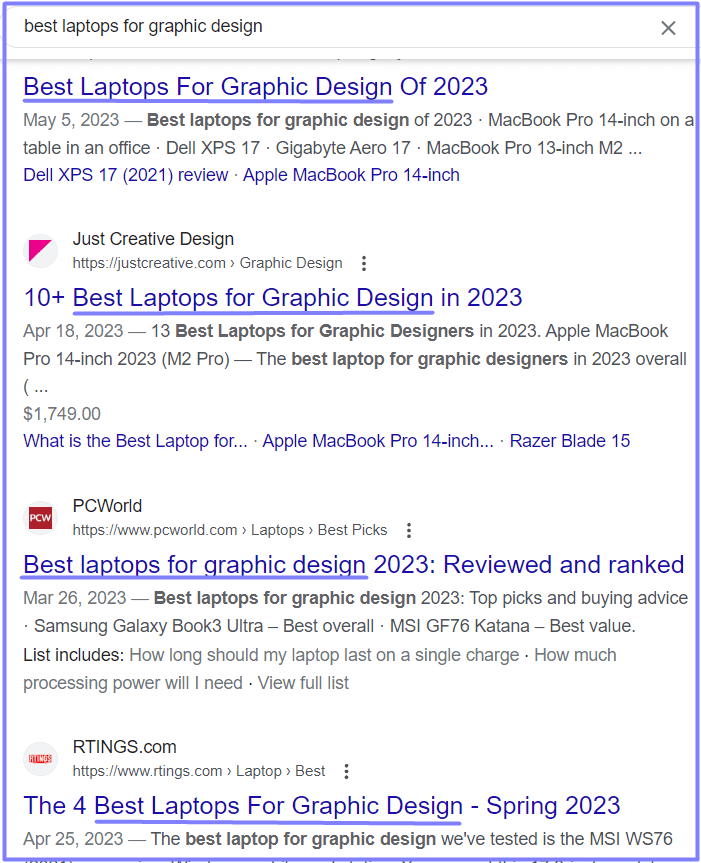 Include optimized images
Many writers don't bother adding images to their posts. They think images are irrelevant for SEO and reduce website performance and loading speed.
This is a misguided practice, as images benefit readers and search engines.
Properly placed images help break down big blocks of text and relax the readers. This automatically reduces the bounce rate and increases on-page time.
Including optimized images also helps with SEO. And by "optimized", we mean relevant images related to your content with proper alt text.
The alt text describes to the search engines what the image represents. This can help your content SEO performance as the search engines can rank it higher even through the image.
Add video or audio where possible
Adding images is many times not enough. There may be situations where a YouTube video or audio file perfectly complements your content.
In such situations, it's best to implement video and audio to diversify the guest post even further.
Some readers enjoy watching YouTube videos, so including this type of content in your post will keep them further engaged in reading it all the way.
Add internal and external links
Lastly, adding internal and external links is crucial for optimized SEO content.
What internal links you add depends on the guidelines provided by the website hosting the guest post.
Each credible site has its own rules, so read and respect them before submitting the post. These rules apply to the word count, internal and external links, images, etc.
As for external links, you should aim to add at least three or more of them, leading to high-authority and credible websites.
They should support your statements in the article, so avoid links to low-authority sites.
You Might Be Interested: Is Guest Posting Worth It?
Conclusion
Writing a compelling and valuable guest post is not an easy task.
With the steps and tips in this article, you will know how to write a guest post and be well on your way to becoming an excellent contributing author and promoting your brand.
If you like this article, check out some of our other similar posts on guest posting and link-building strategies, and let us know what you think in the comments below.