How To Increase Flesch Kincaid Grade Level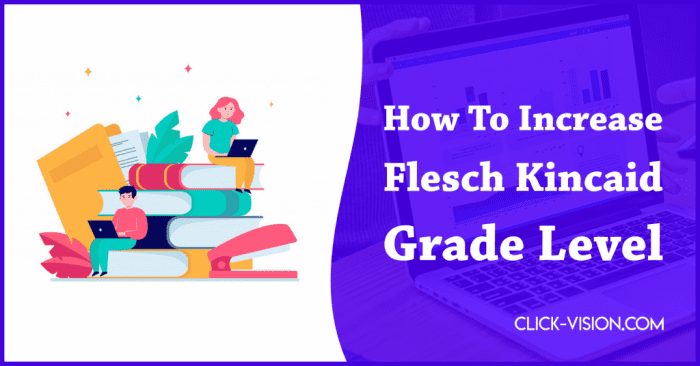 Blogs are a valuable asset when it comes to marketing a business, according to a study. Among other things, a blog may improve your SEO, enhance the number of time users spend on your website, and educate customers.
Naturally, this is only true if your blog has a high readability score. Readability ensures that your written words have the desired effect on the audience. It also aids in targeting the right audience. 
In general, there are two methods for determining your readability score, with Flesch Kincaid grade level being the most appropriate. It is based on a different formula. What if your Flesh Kincaid Grade Level is lower than you anticipated? You'd be doing something wrong, and we're just trying to assist you to figure out how to increase Flesch Kincaid grade level.
What is Flesch-Kincaid Readability Grade Level?
The Flesch Kincaid grade level is the most trusted and widely utilized of the various readability tests available. It's essentially a modified version of the Flesch Reading Ease, another well-known readability test.
John P. Kincaid updated the formula in the late 1970s and named it the Flesch Kincaid grade level. He adapted the readability formula developed by Rudolph Flesch in the 1940s for the US Navy. Fishburne, Rogers, and Chissom helped Kincaid.
They changed because the Flesch Reading Ease numbers aren't immediately understandable and require a conversion table. As a result, the US Navy updated it to decide whether their technical publications were easy to grasp swiftly. It's advisable to use the Flesch Kincaid grade level for instructional materials.
Flesch Scoring
The Flesch Kincaid grade level reading levels won't be challenging to grasp if you're familiar with the Flesch Reading Ease exam. It will be simple to read Flesch Kincaid's scores if you are familiar with the US numerical grade level system.
The Flesch Kincaid grade levels include 0, 2, 4, 6, 8, 10, 12, 14, 16, and 18 as examples. The text becomes more difficult to read as your score rises. As a general rule, aiming for a Flesch Kincaid reading level of 8 is a good idea. Because the average reader will have reading abilities comparable to eighth-graders, this is the case.
Uses
The Flesch Kincaid grade level enhanced method was created for educational objectives, which is why it is best employed in this discipline. It's simple to use and will provide you with all the information you require immediately. As a result, it is used as a diagnostic tool in various industries (including that outside of education).
Website material, marketing, textbooks and training programs, editing and proofreading, and novel writing benefit from the Flesch Kincaid readability test. You can also use it to write layman-friendly terms and conditions and communicate with a non-specialist audience.

How Do You Determine Your Flesch-Kincaid Grade Level?
Here is the formula for the Flesch Grade Level Readability:
Step 1: Calculate how many words are used on average in each sentence.
Step 2: Calculate the average syllable count per word.
Step 3: Multiply the average number of words by 0.39, then multiply by 11.8 to get the average number of syllables per word.
Factors that Affect Readability Score
A variety of things influence readability scores. The significant factors that have the greatest impact on effectiveness are listed below.
Average Length of Sentences
The main reason content gets a low reading score is because of long sentences. Longer sentences require more concentration and time to read, which is why they have lower reading scores. Your sentences are ineffectual if they are so long that they lose the reader's interest. When writing, avoid utilizing the passive voice and instead use the active voice. Sentences written in the passive voice are longer because they do not get right to the point.
To make your text easy to read, don't make your sentences short and choppy. Continue to create high-quality material with various sentence lengths, but keep an eye out for very long sentences. If a single sentence becomes too long, split it into two. This significantly increases your material's readability.
Average Number of Syllables per Word
Your readability score is calculated based on the total number of syllables utilized in your material. This suggests that using long, complicated phrases affects the readability of a piece of text. Striking for simplicity in material appears to be counterintuitive. Some of us have been trained that using more complex vocabulary is preferable.
This may be suitable for sizable academic research articles but not always for web content. Anyone who visits your website should be able to read it easily. Visitors to a website are not looking for content that will be difficult to read. They look for stuff that answers their questions.
You don't want your viewers to have a dictionary view to search for a word in your content. Avoid employing many complicated terms and phrases if you want to boost the impact of your content.
Use of Headings and Subheadings
Have you ever visited a website that had pages upon paragraphs of text? Did you instantly close the window, or did you read the whole thing? The majority of individuals do not take the time to read poorly arranged website material. Text in large chunks can be daunting. Headings, subheadings, and graphics can help make information more effective in this situation.
You can break up large sections of content on a webpage with headings and subheadings. They also make it simple for readers to scan text. Before devoting several minutes to reading a page or article, readers want to know what the content is about.
Headings and subheadings help writers divide the text into sections so that readers can quickly find what they're looking for. Consider how difficult it would be to read this blog article if we didn't use headers and photos to break up the content.
Why Does it Matter?
Effectiveness of Content
The reasons why having readable information is so vital for increasing efficiency are discussed above. Material that is easy to read is more compelling content. Your article shouldn't be difficult to read or contain long sentences.
Your website visitors may suffer to find what they need if your content is tough to read. It would help if you prioritized providing easy-to-read content so that your website visitors can get the most value out of it.
Concentrate on the above factors when developing material to increase readability. When you get right to the point with your content, it will be a lot more effective. Your updated and better material will also be appreciated by your readers.
SEO Efforts
When evaluating websites in search results, search engines consider readability. Google, Bing, and Yahoo! don't want difficult-to-read content to appear on the first page of search results. When you have a good readability score, search engines can find naturally included key phrases that people search for. They want to rank effective material that offers answers promptly and is of high quality. If you're using SEO techniques, you'll want to consider the readability of your material as you create it.
While search engines have yet to reveal the specific algorithm for evaluating readability, various readability tests are available. Using even one of the tests below can help you increase your readability score and, perhaps, your search engine rankings.

Benefits of Good Readability
Readability is essential in any situation. It is very crucial in marketing for SEO, usability, and conversions. All of these factors are crucial in converting readers into consumers.
This may be suitable for sizable academic research articles but not always for web content. Only if people understand what you're writing can this happen. As a result, a book that is complex or lengthy will quickly lose readers.
Better Rankings
Let's imagine a visitor leaving your site without spending any time on it. Negative scores will appear in your analytics. You'll probably find that people are spending less time on your website. Keep an eye out for increasing exit and bounce rates. All of these issues have an impact on how websites appear on search engine results pages.
Google and other major search engines keep track of how quickly visitors abandon your site. Visitors can depart for a variety of reasons. Bad design, stale content, a problematic backend, and poor readability are among them.
Making your material readily available will help consumers stay engaged. Websites that are easy to read tend to rank higher in search engine results. Users return to easy-to-use websites. As a result, if you make your material legible, more people will locate and use it.
More Traffic
People also search for content using words they are familiar with. Your text will not display in search results if it contains a lot of jargon or complex terminology. Keep in mind that actual people are looking for you. Use the same terminology that they do.
Improved Engagement
The target audience should be able to use your website. Don't be tempted to produce content at a level of readability that will turn off your target audience. A higher rate of usability equates to a higher readability score. Usability enhancements boost page views, engagement, and conversions.
More Conversions
When writing content, maintain your conversion goals in mind. Micro-conversions, such as clicking a link or watching a video, should not be overlooked. Increasing the amount of readable information on your website is a fantastic approach to increase conversions.
What is important is that website visitors stay for a while to convert? Readable material attracts visitors and encourages them to stay. Conversions and commercial success are more likely with high-quality, digestible content.
How to Increase Flesch Kincaid Grade Level
Keep Your Paragraphs Short
The notion that a paragraph should include around five sentences has some deviations. You will use longer paragraphs for highly technical or particular topics, while you will use shorter paragraphs for easier reading. While headers and subheadings may not significantly impact your Flesch grade level, they help break up walls of text and make it easier for readers to skim.
Know Your Audience
Knowing your audience is perhaps the most critical component in determining if your content genuinely lands or not, out of the two points described above. The ability to create engaging, instructive content and push the reader to take action can help you stand out from the crowd. This is where audience research pays off.
You might have an imprecise concept of who reads your content. Is it, however, correct? How has it evolved through time? Is your material enticing enough to this target audience? Naturally, no two consumers are precisely alike. As a result, you'll want your content readability to be as broad as possible.
Shorten Your Sentences
You can ramble continuously, trying to squeeze as much information as possible into a phrase like this one that seems to go on forever and ever, but that's a surefire way to turn off your readers.
A better rule of thumb is to keep sentences to a maximum of 20-25 words. Short sentences allow readers to create their conclusions while also allowing them to digest the information you're providing fully.
Understand What You're Writing
Businesses will create a variety of different forms of content. These include social media posts, blog entries and articles, and even white papers on occasion. Naturally, the strategy you take to write each piece of content will differ. You can, however, vary how you approach readability for each.
A white paper reader, for example, is more likely to be knowledgeable about the area you're discussing. Because they're looking for information and insight, the complexity of your writing can be a little higher. Given the average reader's understanding, you can afford to be more technical; simplifying isn't necessary if you're wondering how to increase Flesch Kincaid grade level.
When writing a social post or a blog, however, the scenario is highly different. People will want more approachable, easy-to-read stuff here. The best way to succeed in this format is to keep it as readable as possible.
Break It Up
You're always on the lookout for new blog ideas, and they don't just appear out of nowhere. Rather than cramming several thoughts into a single post, try dividing them out over several posts.
You may always publish more regularly, or even better, build a series that spans multiple blogs and keeps your viewers interested. Limiting your postings to a single topic can keep your visitors more interested in what you're delivering while giving you plenty of content ideas.
Conclusion
To generate fresh and distinctive material that is simply understandable for your audience, you must take readability seriously. The Flesch Reading Ease Score and the Flesch-Kincaid Grade Level are valuable tools for determining how easy your text is to read.
We assume you now have a better idea of how to increase Flesch Kincaid grade level. Readability is about more than just sentence and word length. Writing website copy that gives value to your audience, not merely for SEO, should be your primary goal. It's okay if you have to break the rules now and again to make your point.