What Is Lead Generation in Digital Marketing?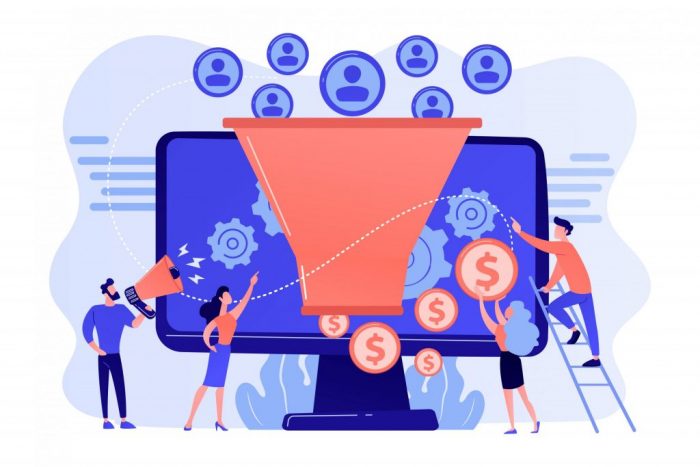 Gone are the days of chasing prospects in seminars and sales conferences. You don't need to pay for space in the paper or create expensive TV ads to get heard. Nowadays, it's easier to look up how much a 30-second youtube ad costs, make a creative video, and choose who gets to see it.
Moreover, with the explosion of social media platforms like Facebook and Instagram, you can create more cost-effective ad campaigns and reach a far more relevant audience for your business. The key to this transformation is data. Marketing has evolved and now utilizes data to target specific audiences looking to buy. That's precisely why it's crucial to learn how to navigate digital marketing online and use it to your advantage by creating high-value leads. 
Lead generation has been transformed by the internet forever, making it more accessible for smaller enterprises to broadcast their products or service to a broader audience. So what is lead generation in digital marketing?

What Is Lead Generation in Digital Marketing?
One simple definition for lead generation is that it's a process of attracting potential prospects and converting them into someone who will have an interest in your company's service or product, essentially becoming a customer or stakeholder.
Formally said, it's a process of identifying, attracting, and transforming online users from potential customers into prospects for your business. This can be achieved in many ways, mainly by utilizing online channels and strategies for marketing. You can deploy various marketing tactics like SEO, content creation, social media advertising, email campaigns, etc.
The beauty of digital marketing is following how customers behave. Collecting behavior data can match your customer's needs and create personalized offers. Digital tools allow marketers to analyze customer engagement so that they can turn leads into sales.
Why Do You Need Leads for Your Business?
Generating leads is crucial for your business because you can not only turn them into potential customers but also leads will help you establish who your customers are and create an ideal buyer persona. Leads allow marketers to interact with people looking for information or are interested in buying a product or service. Leads are part of the broader customer journey, and their purpose is to:
Bring traffic to your website

Turn site visitors into leads

Turn those leads into customers
Different Approaches to Lead Generation
The first categorization of leads can be made depending on the type of leads you're looking to generate. Namely, these are B2B leads and B2C leads.
Lead generation in B2B(Business to business)
Generating leads lies at the heart of your sales funnel and development. Business-to-business leads are important for your sales pipeline because they bring in new buyers. These leads can help you recognize which companies are looking to change suppliers, get a new service subscription, or just buy products in bulk.
Lead generation in B2C(Business to consumer)
Generating leads with a broader range of customers is essentially the process of marketing and broadcasting to a wider audience. You need to generate large volumes of leads via multiple marketing channels. When it comes to selling to consumers, the more leads you have, the better. Having quantity will allow your marketers to push prospects through the sales funnel.
Different Types of Leads
Not all leads are equal, so having a different approach to each type of lead is an excellent strategy to have. In this section, w classify five lead types, such:
The SQL lead type can be defined as a contact or prospect who has expressed interest in becoming a customer of your customer service team. This means the prospect is ready for a conversation with a sales rep about buying a new service.
A product-qualified lead(PQL) is an individual or business that has tried or experienced your product due to a free trial or some kind of promotion. The prospect has had first-hand experience with your product and is considering taking it to the next level and buying more.
Information qualified leads
IQL leads are at the very beginning of the customer journey. At this stage, the prospect receives information about a query or product in exchange for the person's information like email, name, etc. This type of lead is also known as the cold lead.
Marketing qualified leads
MQL leads are usually in the middle of the sales pipeline. Also called a warm lead, it means that the prospect has expressed a continuous interest or desire for what you're offering. These types of leads actively engage with your brand, be it by multiple visits to your website, getting a free trial, submitting information, etc.
SQL leads are also called hot leads because they are the final stage of your sales funnel and are likely to make a purchase. They've probably taken action in that direction. It also means that your marketing and sales team should have already researched and vetted the prospect to ensure the sale is closed.

Marketing Strategies for Generating Leads
There are many digital marketing channels you could use in order to generate leads and promote your landing page. Let's go into detail about a few of them.
Paid advertising through social media platforms
If you already have a budget and want to start generating leads fast, then paid ads through social media sites are where you should start. This is the easiest way to test your Minimum Viable Product. 
Social media presence
Social platforms like Instagram and Facebook are filled with opportunities for marketers looking to guide people into taking action and becoming a customer. You can promote your business through social sharing and links that can be clicked via Instagram's stories and your Facebook wall. You should promote your product or service through social posting actively.
Social media and Google paid to advertise
You can pay for a targeted ad campaign through social media or on top of Google's search results. Depending on the industry you work in, the platform you choose, and the bidding mode, namely, CPC(Cost-per-Click) or CPM(Cost-per-Impression), an ad campaign could cost you anywhere between $0.50 to $3 per link clicked.
Most marketers fail to utilize these powerful platforms after you get people to your landing page. The landing page must correlate to what is offered in your advertisement. 
Moreover, users should already be familiar with and know what needs to be done to interact with your business. So we suggest not to spend tons of money on an ad without knowing how to convert customers after the ad is clicked.
Youtube ads
Youtube says in its reports that it has over two billion monthly users in over 80 countries and more than 100 languages. Marketing using youtube is a little bit on the expensive side. Still, it's one of the most effective methods because you can use video to share your vision and help customers visualize and listen to your message. Youtube videos have a higher cost because you will inquire about a cost in order to produce the video and then use additional funds to promote it. 
How much does a 30-second youtube ad cost?
Promoting videos via youtube ads has been growing in popularity ever since the platform introduced the creator partner programs. If you're wondering how much a 30-second youtube ad costs, it depends on how much you pay for the video itself. The promotion part varies on the customer type you're chasing, but accurate estimates exist.
A 30-second ad can cost you somewhere between $0.03 to $0.30 per view, or around $2,000 to reach a hundred thousand views. A view is counted if someone watches your video for at least thirty seconds or interacts with it by clicking on it.
Email marketing
You have to put yourself in your buyer persona's shoes. Most business people nowadays wake up, and the first thing they do is check their email. You can make an email campaign using the data you have accumulated from your customers. 
Sending marketing emails, newsletters, and promotions is a great way to get in touch with people who already know what your company does. You'll want to write compelling emails with eye-catching designs in order to hook in people.
SEO and content marketing
The best way to bring traffic to your website is by having valuable content. Using information and creating fun and engaging contact is the best way to attract organic traffic to your site. This is where SEO(Search Engine Optimization) comes into play. Optimizing your content with well-placed keywords and quality information can rank your business at the top of many search results.
Create gated content
An exciting way to captivate qualified leads is by creating gated content. This kind of content presents some valuable piece of information that your prospect wants and is restricted in some way. 
The content can be anything from an e-book, fun calendar, case study, etc. This type of content provides two benefits: your brand seems more legitimate and established, and you gain information about high-quality leads who are interested in your company.
Host events
Another interesting way to gain some traction is by hosting an online event. This can be a webinar, a conference, or some creative workshop. 
Similar to creating gated content, events allow you to gain leads by getting people interested in what you have to offer. Furthermore, prospects need to register and share their data with you to participate in said event. We would also suggest having some form of a Q&A at the event to raise discussion and have a glimpse into what potential customers think about your business. You can use social media to promote your events and increase awareness among potential B2-B customers.
Tools for Generating Leads
No matter which marketing channel you choose to focus on, a successful campaign is always accompanied by the right tools. There are thousands of tools you could utilize, but we'll only mention a few here:
Databases – Have an IT worker that will help you build and maintain a healthy database containing all data for your potential prospects.

CRM(Customer relationship management) software – software like Apollo or Hubspot can help you manage contacts, find new ones, and maintain a healthy relationship with existing ones.

Landing page builder – consult your IT person and find tools that could help you build drag and drop landing pages, helping you convert visitors into customers.

Email software – plenty of programs can help you build an impactful email campaign and even automate it to save you time. A good example would be MailChimp.

Pop-up form software – find a pop-up builder program that can help you create forms that pop up. Surprising website visitors with a captivating form can do wonders for your sales.
Some Tips to Follow
Moreover, with the playing field getting evened out, competition has skyrocketed. So, here are a few tips to follow that can help you separate yourself from the rest and generate more leads:
Find a niche, tell the world why your business is unique, and target a segment

Create a marketing budget. With so many avenues for advertising, it's easy to overspend, so make sure to have a budget in place.

Increase your social media presence. Post regularly on social media and run social media ads.

Create valuable content. Publish content that is valuable as frequently as possible.

Keep working on your SEO. It will lead to organic traffic to your website.

Hire a marketing agency. If you simply have no idea how to get started or what kind of campaign you should go for, hire an experienced agency like ours to do the work for you.
Final Words
The world of marketing has changed drastically because of the digital age. People can look up and find slue of information about your company – they are more informed than ever. 
The final suggestion we can give you is quite simple. Don't treat digital marketing and generating leads as a one-time thing because lead generation should become a core process of your business.